S'Mac-n-Cheese
No-Boil, Smoked, Mac-n-Cheese

16oz = 6 C of Cavatappi pasta, dried
1 C = 2 sticks of butter
24oz = 1.5# Sharp Cheddar, shredded
24oz = 1.5# Colby Jack, shredded
5 C of Milk, whole
1 C water with 3T of flour as thickener
3 C French Fried Onions

Layer ingredients in order listed, except FFO & thickener
Crank the heat to 350' or higher
I went really light on the smoke, a few chips at a time
Stirred at 30min, 1hr and 1.5hrs
Stir in thickener at 1.5hrs
Total cooking time 2.5hrs
Top with FFO last 1/2hr
Serves 10-12 generous portions




Smoked/Grilled Yardbird

Rub bird generously with EVOO
Montreal Chicken and Season Salt
Smoke with Apple wood at 250'-275' for a little over an hour, get some good color on it.
Transfer to a 350'-375' or hotter grill and finish to minimum recommended IT, this also crisps up that skin.




Money Shot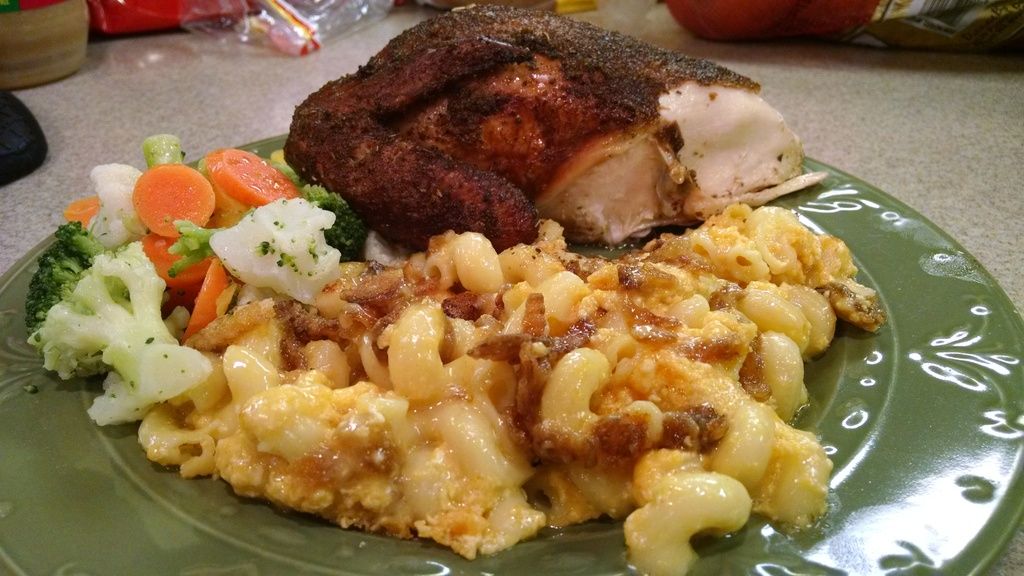 Edited by ChileRelleno, May. 20 2017 - 09:29 AM.